Earlier this morning, man band Take That announced they'll be hitting the road next summer to play 14 dates across the UK before heading off to Europe to perform a further six shows. Progress Live 2011 is the band's biggest tour yet and is another first for the five since they split in 1995.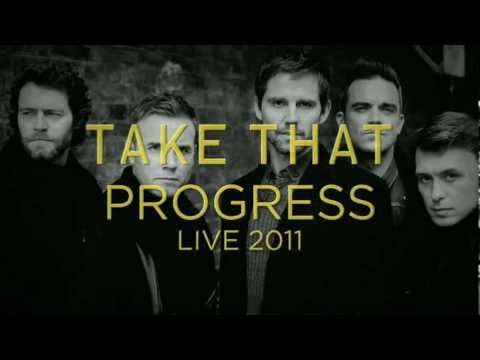 Tickets to the UK and Dublin dates go on sale this Friday, 29th October at 09:00 BST via the usual outlets. European dates will go on sale on Friday 5th November (more details here).
UK & Ireland
Mon 30 May Sunderland Stadium of Light
Fri 03 June City Of Manchester Stadium
Sat 04 June City Of Manchester Stadium
Sun 05 June City Of Manchester Stadium
Tue 07 June City Of Manchester Stadium
Tue 14 June Cardiff Millennium Stadium
Sat 18 June Dublin Croke Park
Wed 22 June Glasgow Hampden Park
Thu 23 June Glasgow Hampden Park
Mon 27 June Birmingham Villa Park
Fri 01 July Wembley Stadium
Sat 02 July Wembley Stadium
Sun 03 July Wembley Stadium
Tue 05 July Wembley Stadium
Europe
Tue 12 July Milan San Siro
Sat 16 July Copenhagen Parken
Mon 18 July Amsterdam Arena
Fri 22 July Hamburg Imtech Arena
Mon 25 July Dusseldorf Esprit Arena
Fri 29 July Munich Olympiastadion
And if you haven't already, make sure to check out their video for 'The Flood'.