Newest (decent) boyband on the block The Wanted are about to release their debut single 'All Time Low' on 25th July. They've been touring the nation's schools for the past few weeks and are now on a hectic radio promo tour across the UK. We spoke to band member Max earlier today and got the lowdown on what's occurring in Wanted World right now. Here's what he had to say…
About sharing a stage with label mates The Saturdays
"We did a gig with them recently in Hamilton Park, just outside Glasgow last week. That was well good. The crowd was really good and we got to sit in the front and watch them and we had a pretty good view."
[Other dates with The Saturdays are 8th July at Haigh Hall in Wigan, 9th July at Thetford Forest in Norfolk and 16th July Rochester Castle]
About the new album
"There's a mix of all different sorts of tunes. Most of them are pretty upbeat, but there will be a couple of slow ones for the girls, and there's one ['Let's Get Ugly'] with a sound clip from a Clint Eastwood film [The Good, The Bad and the Ugly] that the 'older generation' might recognise."
Here's a sample of 'Let's Get Ugly'.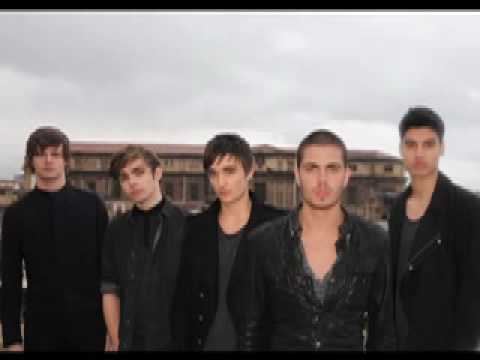 Producers and writers
"We've worked with Guy Chambers [Robbie Williams, Light Years-era Kylie Minogue, The House by Katie Melua], Taio Cruz who has written on one of them, Cathy Dennis ['Can't Get You Out Of My Head' by Kylie Minogue, 'Toxic' by Britney Spears, 'I Kissed A Girl' by Katy Perry], Wayne Hector, Steve Mac and Ed Drewett [they wrote/produced 'All Time Low' with Max].
We started in February and we've just been hammering it. We've been recording non-stop and we've got about 35-40 songs.
We've written about 50% of the album [ourselves] and hopefully on the 2nd one – if we're still around – we'll get to do some writing on that one as well."
Influences
"Mine [Max] and Tom's are Oasis. Jay is more into indie stuff, like Cat Stevens and Newton Faulkner. And Siva and Nathan like more soul stuff, like BoysIIMen and John Legend. [The album itself] will be predominately pop with a couple of acoustic, more piano based songs."
The Spice Girls all had nicknames. What would be your nicknames?
"I [Max] would be Heartthrob (I chose that one), Tom would be Cheeky, Nathan is Cute, Siva is Zen, Jay is Geek."
On the first single 'All Time Low'
"I can't wait for it to be out. It's actually Jay's birthday the night before its release, and I think we might be doing G-A-Y in London. It's not been confirmed yet, but if we are, we'll do our gig and go out and get absolutely hammered. And do a couple of gigs the next day – and then get hammered again."
'All Time Low' is out July 25th, the yet untitled album is expected end of October / start of November 2010.